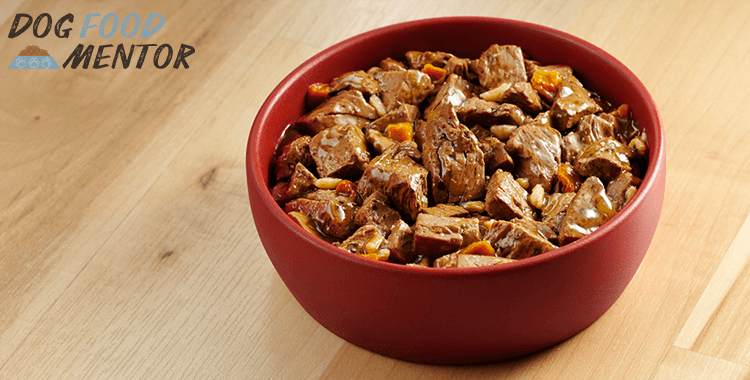 I'm an avid dry food lover for my pets, but occasionally I do realize the need to feed them wet foods, simply because no water can substitute animal's need for moist meal. My Cesar Canine Cuisine Filet Mignon & Porterhouse Steak analysis began with its manufacturer – and that is an American food processing giant Mars Incorporated.
The company pet care division is headquartered in Tennessee, but the dog foods for other markets are also produced in Canada and Europe.
Cesar Wet Dog Food Reviews, Quality Control and Recalls
One outstanding feature of this Cesar dog food review is that for the first time I wasn't able to find any major problems with the brand quality. It looks like Cesar dog food recall history is all clear and I sincerely hope it will stay so!
Products Overview
Mars per care product line is represented by such well-known brands as Pedigree, Royal Canine, Nutro and Cesar pet foods.
---
Full List of Cesar Cuisine Dog Food Products
---
Cesar Cuisine line is a wet/canned dog food range that has around 15-20 flavors for puppies and adult dogs of all sizes. Its consistency is such as being made of pieces of meat (filets) in a sauce. The taste that my dogs proved to love the most is filet mignon & porterhouse steak, but I think the nutrition facts I will be talking in an analysis below are pretty much similar for all other flavors.
Review of Cesar Canine Cuisine Variety Pack Filet Mignon & Porterhouse Steak Dog Food 3.5-Ounce (3.5 oz. (Pack of 24))

Cesar Cuisine Variety Pack Filet Mignon & Porterhouse Steak (2-12/3.5z)
It's easy to find both a negative and a positive Cesar Canine Cuisine review online, but it seems to me that the Filet Mignon and Steak is one of the most popular tastes and also one of the most loved ones.
I switched to it when my poodle needed to gain some weight after a surgery (it's not a secret that dogs in general like to eat moist foods better). With 8% of protein and 4% of crude fat, the product did the job it was expected to perform and I now buy it occasionally just to change my dogs' menu for a while.
One tray has around 100 calories, which is not a lot, so that's why bigger dog owners mix it with half a cup of dry dog food or rice, if the pet is not allergic to grains.
Key Features of Cesar Canine Cuisine Variety Pack 3.5-Ounce Dog Food
I've decided to go into Cesar wet dog food analysis because it meets two of my most important criteria when choosing wet dog food:
It's easy to use. Being individually packed on a plastic dish makes it easy to just peel a sealed cap and serve my dog's dinner. I hate digging into a can to get the food out and into a dog's plate.
It has good texture. I don't feel comfortable when wet foods are mashed into a pasty spread. For adult dogs I prefer aliments with meaty texture that actually remind a real dish made of meat and other ingredients.
I saw in many other Cesar Canine Cuisine filet mignon and porterhouse steak reviews that many dog owners prefer this texture to mix with dry dog food. I am personally not a fan to mess with my dog's food, but it is a viable idea to justify the cost of pack of 24 3.5 oz. Cesar plates and diversify your dog menu.
Cesar Dog Food Ingredients
My analysis of Cesar dog food ingredients confirms sufficient contents of meat, which is what any dog owner expects to see in wet dog foods. However, this meat has both reliable (such as beef, chicken, liver and etc.) and doubtful sources (meat by-products).
---
Cesar Cuisine Dog Food with Different Ingredients
---
Main ingredients in Cesar Canine Cuisine dog food are:
Water (added for texture mostly);
Chicken and beef (the best ingredients on the list, provide protein);
Animal liver (can come from any animal);
Meat by-products (leftover of slaughtered animals usually not suitable for human consumption);
Wheat gluten and flour (added mostly to make the other ingredients stick together, doesn't make a big difference in terms of grain contents);
Cornstarch and pea fiber (boost protein levels and provide fiber).
NB! Some of the packs (depending on the texture and flavor you choose) have added color and sodium tripolyphosphate, which really shouldn't be there in my opinion.
Prices & Discounts
Prices on Cesar Canned dog food are within a lower wet pet alimentation price range. And with a good discount you can easily get Cesar dog food for sale online.
The Pros
Convenient package: just open and serve, no digging and washing necessary;
Winning taste: it's extremely rare that the dog doesn't like the taste;
Chunkier texture: more real for adult dog diet;
Perfect solution to make your dog eat more food and gain weight.
The Cons
Contains meat by-products along with meat: but this is an issue for pretty much all wet food recipes;
Can be pricey, but with added dry food or rice the price is evened out.
Conclusion
Overall, I think the product in question is one of the good wet foods for your pet. You may find a review of Cesar Canine Cuisine Mignon & Steak on the web that will complain about meat by-products in it, but let's be reasonable – not many of us would be happy to see the prices for wet dog food made purely from meat fillet, that's practically impossible.
Cesar Canine packs are approved by AAFCO nutrient requirements and haven't been noticed in any quality issues or recalls. Which makes a pretty good dog food profile for me personally.
---
Available Products:
CESAR Canine Cuisine Variety Pack Filet Mignon & Porterhouse Steak Dog Food (Two 12-Count Cases)   =>   View on Amazon
---