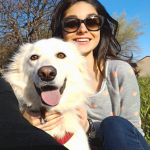 Hi, friends! My name is Mary Pinstone. I'm a dog food mentor who decided to create a DogFoodMentor.com community for those people who really love pets! I'm the owner of the most beautiful dog in the world (in my humble opinion ? ). Here you can check out the photo with my lovely friend.
Why You Can Trust Me?
Even though I'm not the greatest expert in the dog food area, I have gained priceless experience throughout the years of taking care of my dog and I also have a lot of friends who are true experts and professionals in this field! They have a huge experience in dog food and dog supply areas and they are helping me to improve my blog, giving the most useful tips and expert advice!
Many Products – It's Not a Problem Anymore!
As a dog owner, I know that there are a lot of dog food brands, which every day try to sell more and more products. Some brands and products are really good, but others aren't so good. So, we decided to create a DogFoodMentor.com blog, where everyone can find useful information to make the right decision!
Would You Like to Help Us?!
We write unbiased reviews, helpful and comparison articles for you only in our free time because we have a job which helps us to earn money for life. DogFoodMentor.com is like our kid, who always wants to have tasty food (good hosting), clothes (user-friendly design) etc. If you would like to help us – just click on different banners or links and just place an order. We are completely honest with you – you should know that we receive a small commission, which helps us to improve this community and add even more interesting articles, tips and useful dog food reviews!
We are incredibly thankful for every visitor of our website! Stay with us and make you dog happy!